Does The Mazda CX-5 Have Remote Start?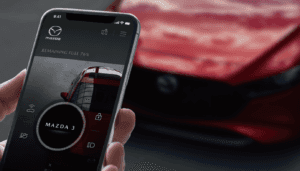 Searching for a new Mazda SUV with remote start capability? You've come to the right place, as our Morrie's Minnetonka Mazda dealer near Minneapolis offers the 2021 Mazda CX-5 crossover in a variety of trim levels that come equipped with Mazda Connected Services that enable you to start your engine, access your vehicle's health status report, lock and unlock the doors remotely and so much more through the MyMazda App on your mobile device.
Which 2021 Mazda CX-5 Models Offer Remote Start?
So, if remote start is a make-or-break feature for you when it comes to car buying, you're in luck, because each and every one of the 2021 Mazda CX-5 trim levels (Sport, Touring, Grand Touring, Grand Touring Reserve, and the Signature Series) come standardly equipped with the very convenient Mazda Connected Services. By utilizing this remote start feature on your cell phone, you can ensure that the cabin of your vehicle is cozy prior to you entering it and that your CX-5's engine is warmed up and ready to take on your Minneapolis area roads.
To make your driving experience even more convenient, Mazda has equipped all 2021 CX-5 models (except for the Sport) with their Advanced Keyless Entry and Start System. With this technology — whether your key fob is in your pocket, purse, backpack, or anywhere else within 31 inches of your vehicle, you can use the advanced keyless function to lock/unlock the door and the liftgate, or seamlessly open the liftgate while carrying the key, thanks to its high-tech key fob that emits radio waves directly to your vehicle.
Learn More From Our Mazda Dealer Near Minneapolis
If you're interested in hearing more about the Mazda Connected Services, the MyMazda App, or one of the 2021 Mazda CX-5 models these features are offered on, please feel free to contact us online or stop in to pay us a visit at our Morrie's Minnetonka Mazda dealer near Minneapolis. We're located at 13700 Wayzata Boulevard in Minnetonka, MN and we offer convenient operating hours from 9 a.m. – 8 p.m. Monday through Thursday and 9 a.m. – 6 p.m. Friday through Saturday!
New Mazda CX-5 Inventory